Is Sun-Protective Clothing A Scam? Or does it really protect my skin?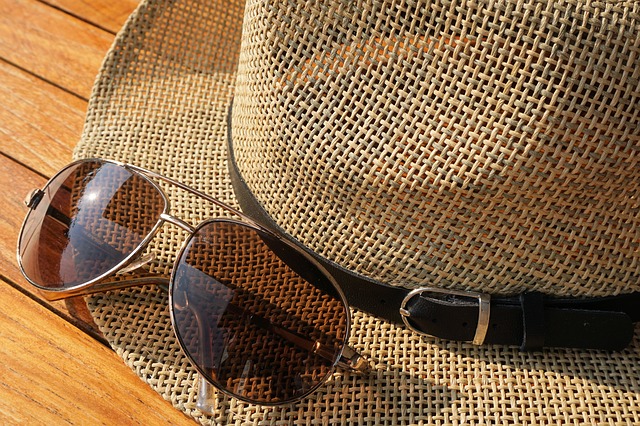 We want our clothing to look great, but we can't help but wonder is sun protective clothing is a scam. With sun block clothing, we expect more, we expect protection from sunburn. Is this unreasonable?
How can I make sure that I buy sun blocking clothing that is what I need, and not a scam? Like the hat in the image above? The weave is too loose to protect from the sun. Good looking hat, though. The sunglasses have oversized lenses, a good thing. A larger size lens will protect more.
Like any other purchase, you have to educate yourself a bit about what to expect with your sun block clothing.
Sun block clothing will absorb or block the harmful UV radiation from the sun. This allows the sun block clothing to remain one of the more easily used and effective forms of protection against sun damage and skin cancer.
What makes, sun-protective clothing great is that is so simple to use.
Unlike sunscreen, you never need to reapply!
Easy To Use
Are you like me and burn easily? On top of that, I am tired of having to constantly apply and reapply sunscreen while at the lake.
Do you have a family? You know what I am talking about if you have a child or two. sunscreen can be expensive. But of course, sun protective clothing isn't cheap either.
Making the decision some years ago that we would be the family wearing shirts and hats, we all appreciated needing to cover up from the sun.
Even in the water, you will often see us in our shirts, hats, and sunglasses. We are pretty good about sunscreen when we arrive, but the reapplications were just flat ignored. We are just too lazy for that.
Just to be clear, I am speaking for myself. Some members of our family are good about reapplying sunscreen.
We all have several 100% polyester shirts that were around $10 each. These shirts can be hotter to wear than some others, but we have not been surprised by a sunburn through them.
We wore ours for a baseball tournament the youngest grandson played in. That was all day in Fredericksburg at the ballpark by HEB. It was the first week of June, and it was hot. We didn't burn under or through the shirts. These shirts were loose-fitting, and mine was the long sleeves. They were dark blue and green.
However, they were hot! No subtle placed vents to release heat, allow air circulation. Yes, those little things make a difference.
Learning About Sun-Protective Clothing
So are these $60 plus shirts worth the extra cost, or is that where the scam comes in?
Keep in mind that I'm writing from my experience. That limits the ability to give one answer that fits all here. For me, the comfort of the UPF-treated shirts is worth it. However, I only need one. Not a whole closet full!
Learning about the better sun blocking fabrics, and what to look for in what I am buying for everyday use will help my situation a great deal.
For one thing, I just am not out as I once was. Making a point to not schedule events during the hotter hours of the day is easier for me. You are probably at another stage of your life from me.
So having one shirt that blocks the sun is enough to take care of my needs. The rest of the time I can wear another shirt, and be OK. Or wear the sleeves. I thought they would be good for riding in the car and keeping the sun off. However, putting them on seems to be too much trouble, judging by the way I never get around to doing that.
For me, the loose-fitting long sleeve shirt in the tightly woven fabric is what I need. I don't need to remember to put it on. Once on, I am reasonably protected for the day.
Some days my specially woven shirt would feel better, but I usually reserve it for days I am going to be out more extended periods of the day. I know that each time wash it, means one less time in its lifetime. However, I have time to watch as the summer mark-downs come along and can find one at a better price.
Overview Of National And International Health Authorities
The national and international health authorities from the World Health Organizations have agreed. Exposure to the sun's ultraviolet radiation from the sun will have harmful results on human skin, eyes, and immune systems after a while.
Skin cancer is the main danger from too much sun. The immune disorders are continuing to point a finger at too much sun. However as the vast amount of research is becoming reference material technology can find and evaluate, the evidence is getting stronger and stronger.
Due to how each of us reacts and the natural defense of each of our bodies, it is difficult to know how much sun is dangerous for each person.
General guidelines have been issued, but many disregard them as being too cautious. Now that I know more about our body and its immune system's reaction to sun exposure, I personally think it is hard to be too conservative.
If I had known that arthritis might be a result of too much sun I would have been more careful.
Lifestyle Trends
We have evolved to a world population that wears less clothing. This began before us, but we just thought that earlier generations with all their layers of clothing were just too out of fashion for us. We wanted nothing to do with the styles of years past.
Pop music stars who perform in front of millions who are comfortable in costumes that my parents would have considered almost naked and indecent. We are just in a time of wearing less clothing.
Everyone wants to look as good as they can, regardless of their age. Too often, covering up enough to protect our skin seems out of our range of acceptable. All of this is happening, of course when we are young, and not as careful as we might be.
The more skin you cover the better off you are as far as protecting yourself against sunburn, tanning, and other skin damage. All the sun damage can ultimately lead to skin cancer. We are living proof in our family that this is not an idle threat. It really can and will happen!
Choosing clothing with collars, long sleeves, and long pants that give full-body coverage and consistent protection. Are you making good choices in what you wear when exposed to the sun?
Are you making use of the Ultraviolet Protection Factor (UPF) rating that will allow you to make an informed choice when buying outdoor clothing?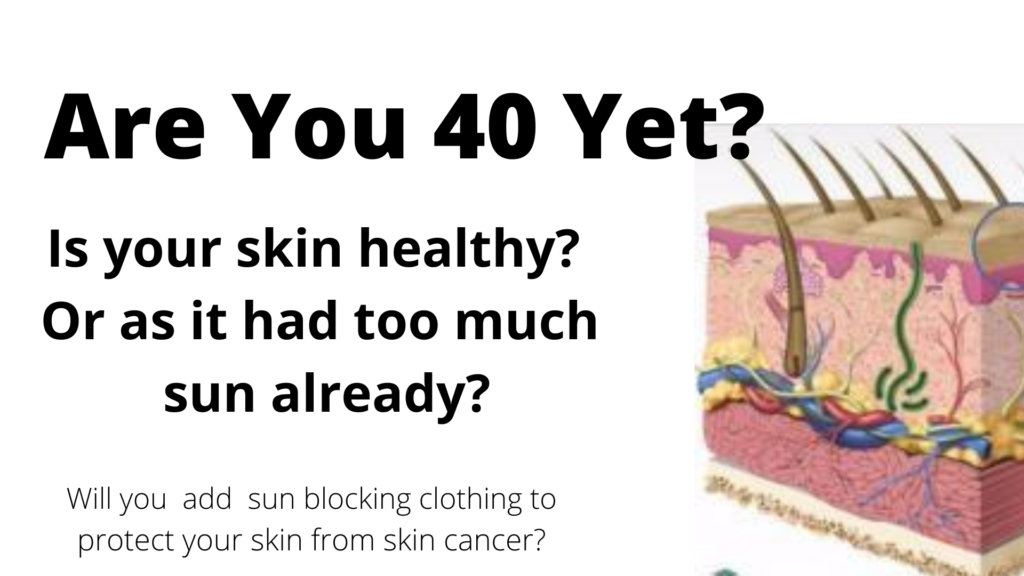 What Is Sun Blocking Clothing Called?
Are you asking yourself questions about UPF clothing? Is UPF clothing any better than sunscreen?
Most sun-protection fabrics have a UPF 50 or higher. This is better than your typical SPF sunscreen.
However, it really isn't a question of which you should use, sunscreen or UPF clothing.
Give some considerations as to which is best for what you are doing. Often the best answer is to use both!
When you use a combination of UPF clothing, and sunscreen, you are doing a better job. The skin you don't cover with clothing, make sure you use your sunscreen correctly, by reapplying as needed. This combination of protection will make you more able to avoid skin cancer.
This suggestion for people to choose a mixture of both sunscreen and clothing may seem like overkill. This will get you the best possible protection for your skin.
Do You Consider Your Sunglasses Sun Blocking Clothing?
Often people seem to doubt that our sunglasses are clothing. We all tend to think they are accessories. "Accessaries are extras" you know, not needed, but make you look better.
Your sun blocking hat and sunglasses are the starting place for your sun blocking wardrobe.
Just think about it, when you are standing or sitting, the sun hits your head first! That is where the protection should start.
Your head will receive sun exposure long before the rest of you. This is where the most squamous cell and basal cell carcinomas start, on your head! Ears, neck, nose, and forehead.
The rest of you needs protection, but always your head and eyes. So the items you need first are sunglasses and sun blocking hat. I am sure there is a report somewhere that explains why one is more important than another. In my everyday life, I feel that if I have sunglasses and a sun hat I am prepared.
And for what I do, these are the items I pay special attention to when I am getting ready to be outside. My sunglasses and tightly woven straw sun hat.
Remember that we are not all doing the same things. We have individual interests, so you need to make choices based on how you live your life.
Will UPF Clothing Keep You Cool?
Does UPF clothing keep you cool? Yes, sometimes it can be cooler for you to wear than a heavier fabric like denim. This is what makes UPF clothing so special. It can keep you cooler if you choose the right kind.
Specialized UPF 50+ sun blocking clothing can keep you cool in hot, sunny conditions. With the UPF 50+ rating and functional design of sun-protective clothing, you have some choices.
You can have fabrics that are lightweight, moisture-wicking, and breathable. This makes them more comfortable to wear in hot, sunny conditions.
There are some very effective designs in the actual construction of the fabric that helps with body temperature control. We can have the breathable, moisture-wicking ability of the specialty fabric. Then, there is also the vest that cools but may not block sun rays.
Some sun blocking clothing is really hot and uncomfortable to wear. This is where the rated fabric garments win over most of us.
Your body can't breathe, and sweat doesn't evaporate. No vents are built-in anywhere to help with keeping you more comfortable. The design of your clothing is important as well. Collars that protect your neck are important. Some shirts have an extra collar to help protect them from the sun.
Some people prefer the hoodie. A loose-fitting hoodie is a good value for some. The fabrics make a difference. Read the labels and follow laundry instructions.
As there are several methods to help keep you cool while wearing UPF clothing, knowing what's available is important. Ask questions when shopping in a store. Read full descriptions and care directions as well as what customers say before using the "order now" button.
Chemicals Or Dyes In UPF Clothing
UPF clothing can have dyes added during manufacturing to help absorb those dangerous UV rays. If you wash and wear your sun blocking clothing a number of times, you may lose some of these dyes. This will allow a bit more sun to get through your clothing. It is just not as effective as when it was new.
Keep in mind, that all clothing, when washed and worn a while will be less effective. Fabric normally loses the ability to block all the sun as it fades, stretches, or has worn spots. This is only natural.
Do you wear a backpack, or a fanny pack while riding bikes or hiking? You are wearing the fabric where the pack rests on your body. Be aware and check for areas the sun might penetrate the fabric.
Some manufacturers use chemical additives like titanium dioxide and zinc oxide to their fabrics to get the sun blocking needed. These fabrics will lose the ability to protect your skin if the garment gets wet, or if it stretches too much. Or washed too often.
These aren't my choice of the best investment for me.
You have my opinion, think about it before buying SPF clothing infused with chemicals for protection. What will you need?
Common Sense and Design
Sun protective clothing makers are finding many ways to redesign their garments to cover almost all of our skin, and still enable us to be active and comfortable. Our skin is susceptible to the sun. Protection is recommended.
Regular conventional designs used to provide protection from the sun can include collars, knee-to-floor length dresses, skirts, ankle-length trousers, and long sleeves. A looser fit is recommended even with the UPF-rated fabrics.
Millions of people in the U.S. are affected by skin cancer every year. Squamous and basal cell cancers are the most common types of skin cancers caused by exposure to UV radiation.
These two skin cancers are most often will be found on our necks and heads. To protect yourself from skin cancer, UPF UV protective clothing such as hats should be used for protecting your neck, scalp, and face. Adding sunscreen to your face will increase your protection from the reflecting rays that are always present.
Using sunscreen and sun blocking clothing will give you better protection from the sun. Teaching your kids to grab their sun hats and sunglasses as they go out to play will be teaching good habits while they are young. Cutting down on sunburns while they are young makes them safer from skin cancer.
Improved Accountability For Sunscreen
John Q Public is becoming increasingly aware of the harmful effects of some of the chemicals used in sunscreen.
This awareness of the products could have adverse effects on our bodies is important.
This information has caused some to completely abandon sunscreen and the protection it brings. If this is your reaction to learning that there could be some risk in using sunscreen, be responsible and use sun blocking clothing to protect yourself.
This, of course, is increasing the demand for sun blocking clothing.
Sunscreen manufacturers are aware that their reputation is on the line. The FDA is calling for the removal of these chemicals from the product. The removal is not for any ingredients of the formula that protects you from the sun.
The questionable ingredients in the claims of chemical build-up in users' bodies and causing the concerns are entering the product at the point of filling the containers to get the product to us, the users. A chemical is added that helps the solution stay stable, fresh, and able to protect our skin.
The manufacturers are working hard to make sure these chemicals are no longer in the final product.
FDA proposes that it needs more safety information for these 12 sunscreen ingredients: cinoxate, dioxybenzone, ensulizole, homosalate, meradimate, octinoxate, octisalate, octocrylene, padimate O, sulisobenzone, oxybenzone, avobenzone.
Read the label of your sunscreen and watch for the ingredients.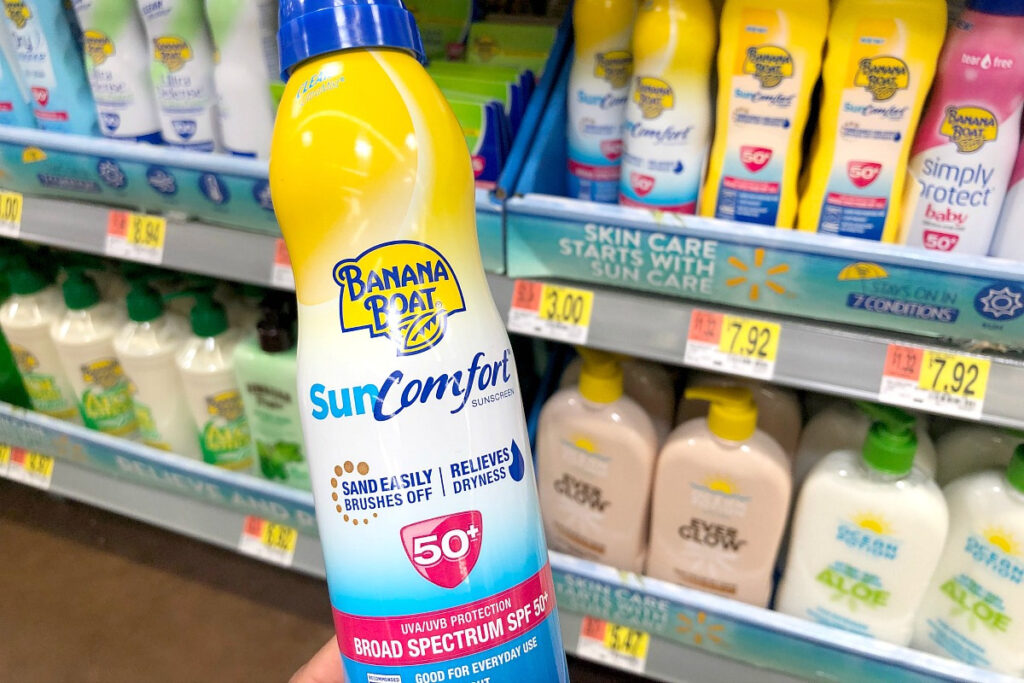 Sunscreen Manufacturing Becoming Responsible
With the questions the public has about the safety of sunscreen affecting the credibility of the product, manufacturing companies are becoming more responsive. Their reputation is important in the competitive mix of protecting our skin from the sun.
With increasing competition, as more UPF clothing development strengthens their spot in the competition for your protection dollar, there is another public outcry.
A more knowledgeable public is increasingly calling for environmental concerns to receive attention.
Sunscreens are working to improve their formulas to be safer for the islands and beaches where sunscreen residue is accumulating.
Plastic for bottles and containers is also a concern. The market for plastic is high enough that decisions are changing about which products are profitable to continue producing.
This is also making wearing the sun-protective clothing more attractive to more users., who in the past have depended on sunscreen.
Key market players are working with other companies to expand their distribution abilities in joint ventures as well as increase their products' market reach.
Privately owned e-commerce is driving the market. The growth of private websites is helping people become more aware of how they can protect themselves and their families from too much sun. They are learning to stay safe in the sun.
The education-driven E-commerce driven market is helping to push an increasing demand for all products across all segments of the sun blocking clothing industry.
This interest from a knowledgeable market has the attention of manufacturers. Being the wise protectors of their business that they are, are busy adjusting and focusing on other efficient and effective distribution channels now available.
Garments In The Sun Blocking Clothing Line Not So Popular With Users
There is concern about the rapidly expanding sun blocking clothing industry in some portions of the market.
Within the industry leaders, there is the fear that the requirement of separate clothing for face, neck, and eye protection may be causing a negative impact on the clothing market.
These separate items are important and for people with special needs, will give them the protection they need. With more knowledge and information, I think we can be more responsible for our skin safety.
With all the technological advancements in sunscreen products opportunities for specialized techniques for manufacturing sunscreen lotions from natural ingredients as well as increasing their effective duration. Yes, this means going longer without reapplying.
However, we don't have many of these new products available. Wide circulation will take a while. And these new products will probably be more expensive. Using clothing for part of your protection from the sun is an economical move.
There will be people who can't use the new products due to skin sensitivity.
With added awareness, we can take better care of ourselves. We can choose better times to be outside. Our lifestyles will improve as we learn more about how to help ourselves.
Which Garments Are More Popular?
For the year 2019, shirts, t-shirts, jackets, and hoodies led the U.S. UPF sun blocking clothing market. These items accounted for 35% of the country's revenue share that year.
These garments provide really good coverage and protection for your torso from harmful sun rays.
The continuing ability of these products to provide comfort, wearing ease, and additional protection from the sun has helped grow the market for UPF clothing. As we continue to search for skin protection from the sun for our daytime outdoor activities this trend stands to lead demand in the U.S. over the foreseeable future.
Sun blocking pants and shorts of fabric that is non-stretchable, lightweight, moisture-wicking, woven, and wrinkle-free.
These products are resistant to chlorine and saltwater, which before have been a holdback for long-term wear. These products aid in keeping the wearer cool in a hot environment, along with providing skin protection and comfort when exposed to the harmful sun's rays.
Swimwear products accounted for around 26% in 2019. The large market share is because of the availability of various sizes, patterns, and prints.
A majority of swimwear products are from fabrics such as polyester and nylon. These fabrics are naturally very good at blocking the sun. They are also easy to work with for fitting and designing swimwear.
As a result, swimwear has the ability to disrupt harmful ultraviolet sun rays. Rayon, flax, cotton, and hemp fabrics blend well with polyester for manufacturing swimwear. Fewer adjustments were necessary to have a quality sun blocking product.
Sun Hats And Caps Are Sun Blocking Clothing As Well
Hats & caps are excellent when used for face and neck protection against harmful sun rays. Most dermatologists will tell you that hats are the most important part of a sun blocking wardrobe, along with sunglasses.
We must quit thinking about hats and sunglasses as accessories. They are the basics that make a sun blocking wardrobe.
All the other garments that help protect your skin take a back seat to a sun blocking hat and sunglasses.
Make sure your priorities are straight. You may be able to live alright without a sun blocking swimsuit. Your regular one may protect you nearly as well as your expensive sunblocking swimwear.
Your hat? Not so much. Make sure you have a hat or extra-large brim cap to protect you. A tightly woven fabric or straw to stop the sun from reaching your head is important.
With all the choices of hats and caps available, make sure you make good choices for yourself. Various types, such as wide brim hats, visors, everyday hats, explorer hats, traveler hats, and shade caps, and a wide range of sizes, colors, and design specifications can be overwhelming. Make sure your sun hat is suitable for your lifestyle.
Extra tip- In windy central Texas, a wide brim can sometimes seem too wide. Don't be too quick to go to a too narrow style. Protecting your head, face, neck, and ears are important.
Protecting Your Skin
Rising awareness, because of the education of consumers regarding UV protection provided by sun-protective clothing. This education about the treatment and prevention of skin diseases and how sun blocking clothing will helps to drive demand.
We should be seeing many new products and designs because of the demand, and the technology to produce different styles.
Sun blocking clothing can be styled to specific design parameters such as styling to cover the entire skin. This would make us less susceptible to damage from UV radiation.
The more familiar designs to provide protection from the sun include collars, knee-to-floor length dresses, skirts, ankle-length trousers, and long sleeves.
Research is proving that humans need to make better decisions about their skin safety, and how much the sun is affecting our future.
Do You Need UPF Clothing? More Women Say Yes!
The adoption of sun-protective clothing by women has led the market and accounted for 42% of the revenue in 2019.
Various products such as dresses, tops, skirts, tunics, swimwear, scarves, and beach cover-all are specifically designed and developed for protecting women's skin from the sun.
Along with the risk of skin cancer, prolonged and frequent exposure to harmful UV rays results in premature skin aging. As women are realizing what they can do to protect themselves they are making the move to sun blocking clothing.
Knowing that sun exposure is what usually causes photosensitive illnesses women are protecting themselves in an effort to stay healthy. This link proves that it is worthwhile to do so.
Men Are Slower To Make The Change
While men may be slower to change to sun-protective clothing, they are moving toward a more responsible attitude about themselves. As the numbers continue to add up, the need for a change for men is apparent. They too will want and need specialized garments for protecting their skin.
The tendency to use sun-protective products, such as sunscreen, is less among men.
This change in behavior is may increase the demand for various sun blocking garments like shirts, t-shirts, pants, swimwear, as well as accessories, including gloves, arm protectors, neck gaiters, and face masks.
Growing Awareness Of Kids and Toddlers' Skin Dangers
Ultraviolet Protective Factor sun protective products, such as sunscreen, usually contain chemicals. These chemicals can be harmful to the sensitive skin of kids and toddlers.
Parents are becoming aware of the advantages of using UV protective clothing for their kids in outdoor activities. Beachside relaxing, casual outings, traveling, and playing, are among the activities to help push the product demand.
The awareness of the dangers for the kids with increasing instances of sunburn among children is changing the market. These parents are aware of the dangers of overexposure to harmful UV rays. They are responsible adults who want to protect their kids' skin.
Awareness of the parents is will be leading the demand for UPF sun protective clothing for kids over the next few years. The kid's part of this market contains products that are widely available for girls, boys as well as babies.
Factors that are driving the U.S. UPF sun protective clothing market growth include the increasing prevalence of skin cancer and other skin-related diseases.
How A Major Manufacturer Of UPF Clothing Is Improving Their Products
I noticed Coolibar's description of the fabric used in their clothing on their about us page online.
"Innovation is at the heart of Coolibar's philosophy," they claim. They say they are developing fabrics that will be important in the results of the ease of wear and the protection provided by their clothing.
They claim that they have industry-leading fabrics with performance features like lightweight, soft, breathable, stretch, moisture-wicking, fast-drying, cooling, water-repellant, and anti-microbial. "Their clothing is all designed for movement, fitness, and fun."
Each proprietary fabric type they use is designed for a very specific function and outdoor activity.
As an example, Coolibar states that swimming and snorkeling fabrics are chlorine and saltwater-resistant and that the fabric drys quickly. Important features for the sports listed.
They also claim that their fabrics use a combination of weave, the tighter the better, deep and dark color, and lightweight to make sure you stay safe from the sun, as well as active.
They also claim that they add the "best active ingredients found in sunscreens: Millions of sun-bouncing minerals, titanium dioxide and zinc oxide infused at the fiber or fabric level."
Even with multiple washings and exposure to sweat, chlorine, and salt, their claim is that their sun protection never washes out.
I do think that the way they describe their fabrics helps me as a user understand better how to use and what to expect from the sun blocking clothing.
Ready To Keep Yourself Safe From The Sun?
When you see clothing brands labeled as SPF protection, you know immediately that it's not accurate for fabrics.
SPF stands for Sun Protection Factor. This is how you measure the amount of time it takes for skin to start turning red when exposed to the sun. So when you use sunscreen to protect your skin, the SPF tells you how many minutes this product will protect you for.
Unless your sunscreen has the words "Wide Spectrum" on the label, you are only blocking the burning rays, not the ones that make you look older quicker.
UPF is for fabrics and helps you know how much sun is getting to your skin through this fabric. A UPF rating helps you decide which protection you want and need. Is this garment for protection in the hotter time of day? You will need at least a UPF of 50.
Don't waste your money with fabric using SPF to label the sun protection ability. Your skin will be getting too much UVA.
What About Moisturizer With SPF?
Manufacturers are getting the word and realizing that customers are serious about protecting their skin. Using a moisturizer, a primer, or foundation with a rating of SPF 30 or greater will give you a head start on keeping your skin safer from sun damage.
We now know that if we layer all 3 of these products we will have even better protection for our skin from the sun. Protecting from the sun is an important daily routine to keep your skin healthy, and younger-looking.
When you add a layer of sun blocking clothing, you are able to have lots of choices about keeping your skin safe from the sun.
A Quick Reminder About What Broad Spectrum SPF Means?
A. The Sun Protection Factor (SPF) rating is for measuring the UVB protection a product provides. To get protection from UVA as well, look for the description "Broad Spectrum" on the label well.
To get the full protection this product offers, you must properly apply it to your skin. You have to apply generously and rub it thoroughly on your skin before exposing yourself to the sun. (Now you can see why I like UPF clothing. Less skin to worry about.)
B. SPF has no relation to UVA protection; Protection for UVA rays is measured with a different scale called the PA system.
Make sure you are protecting yourself from both UVA and UVB rays, look for sunscreen products that have the label "Broad Spectrum."
But how can sunscreen provide this protection?
The science of how SPF works is confusing to understand because of all the moving parts! Before we get into that, let's talk about these rules with UVA and UVB rays.
UVA vs UVB: Why Do You Care?
Invisible ultraviolet radiation is emitted from the sun and reaches the Earth's surface. These radiations also damage unprotected skin, even on cloudy or rainy days.
These rays that will cause damage to your skin, are ultraviolet A (UVA) and ultraviolet B (UVB).
UVB rays heat your skin's surface and cause sunburn. Sunburn is damage you can see, as well as feel. This damage also causes skin cells to behave in an abnormal way.
UVA rays penetrate deeper into your skin where they can destroy everything they touch. These UVA rays destroy the skin cells where all the vital supportive substances your skin needs are produced. These are the part of your skin's support system that keeps your skin young and healthy.
These shorter wavelengths of UVA can also cause you to have painful sunburns when you expose your skin too long when it has no protection. Both forms of the sun's rays, UVA and UVB rays play a role in causing skin cancers. (UVA is where sunbeds get you in trouble)
Clothing with a UPF rating of at least 30 or more will do a better job of protecting your skin. A rating of 30 does not meet the requirements from SkinCancer.org
Sunscreen must have the words Broad Spectrum and a rating of 30 or more to protect your skin.
The Difference In Damage With UVA OR UVB Rays On Your Skin
You are able to see the damage from UVB rays in just minutes. You will quickly have redness if you have sunburn. UVA rays cause your skin to start tanning, a sign of damage to every layer of skin.
You will only turn tan if the melanin layers of your skin get a message that they are getting too hot and need help protecting your skin.
It is like a fire alarm down in the deeper layers of your skin. "Help, Help we are burning. We need shade. Make some melanin and share it around in the outer layers of your skin so we will have shade and protection."
If you are like me with fair skin, your body will sound the alarm in about 10 minutes, with no sunscreen.
Yes, both UVA and UVB rays are present outside year-round, summer and winter. Yes, also present in all types of weather. Add to that the ability for UVA rays to penetrate glass, including car and office windows!
Now you know why it's so important for you to wear sunscreen even if your outdoor time is minimal. You also realize the reason to choose products labeled "broad-spectrum" since these protect against both types of UV rays.
Yes, some automobile and office windows do have a UV-protective coating, but most do not. If you don't know for sure, it's best to act as if all glass windows do let those dangerous UVA rays in.
Basics For Understanding How Sunscreen Works
UVB rays are most intense between the hours of 10:00 AM and 4:00 PM or if you live in the higher altitudes. Then they are more intense as you get closer to the equator.
UVA rays from the sun are present all day long at a relatively constant intensity no matter where you are in the world. At any hour of the day, if you can see daylight, UVA rays are present. If they are present they are damaging any unprotected skin!
A safe amount of UV light exposure? Not Found! None. There are no safe time limits. Even if you are not burning, you are aging if it is daylight.
How Are SPF Rates Tested?
Thinking about the testing for how long sunscreen can protect your skin is a bit elusive. I live in Central Texas, USA. You live in Central Maine. Of course, conditions are different.
This makes it important to point out that the testing to determine SPF ratings has limitations. Testing in Texas doesn't always translate to testing in Maine.
Although the testing is done on actual people's skin, the conditions are controlled. The intensity of UV light is controlled.
In the real world, UVB intensity varies. UVA is consistent. The change in intensity of UVB light affects how long it will take skin to turn red, with any given sunscreen. These are the natural factors.
For the man-made factors or the sunscreen, the Sun Protection Factor (SPF) rating only measures how much UVB protection the product provides:
If liberally applied to the skin.
SPF numbers can also be a bit misleading because of the way the rating system was calculated. There is less of a difference in protection as the SPF rating increases. A 50 rating gives almost as much protection as a 90. There is little benefit to you the user after 50.
This will help explain what suncream factors mean? These results are based on regulated testing, we usually don't live where things are so controlled:
To block 93% of the UVB rays get a full spectrum SPF 15 product.
Do away with 97% of these dangerous rays with a full spectrum SPF 30 product.
While blocking 98% sounds good, and it is. It is only 5% more. Is the wide spectrum SPF 50 product more expensive?
So the wide spectrum SPF 100 blocks 99%. This will help you make better decisions.
Now For The Warnings
Let's talk about the warnings. You knew there would be a few, didn't you?
For everyday use, most people should be ok with SPF 30 to SPF 50.
When you know your skin will be out in the midday sun, it is time to consider a higher SPF as well as adding your other sunblocking clothing resources such as hats, sunglasses, and shirts.
And here's the tradeoff: super-high SPF ratings usually result in increased potential for a sensitized reaction. Your skin can react, especially in hot, bright sun exposure situations.
If you choose mineral filters to reach an SPF rating much over 50, then you will likely be dealing with a pasty white cast for your skin! This could be the time to consider a tinted sunscreen with iron oxide to cover the white cast.
The white cast is apparent on my pale skin, but those with darker skin tones will probably see even more of the white color on their skin. Definately time to consider a tinted mineral sunscreen.
How Much Longer Does SPF 50 Last Than A SPF 30 Lasts?
Wish there was a quick answer to this question!
We thought, in the past, that this was the correct formula:
if your skin turns pink or begins to darken within 10 minutes of sun exposure without sunscreen, then SPF 15 would provide 150 minutes of protection (10 x 15 = 150). SPF 30 would get you 300 minutes, and so on.
That is how we used to figure SPF ratings so everyone could figure out their own limits. However, when I used this formula to be out in the sun and be safe, I always got more sunburn.
The error of this formula was no surprise to me when more testing has found that there are other things that affect how quickly I sunburn.
Factors like the time and the amount of exposure, meaning the intensity of UVB based on where you are in the world. How much cloud cover, if any.
Are we at the beach or the pretty little lake in NM, Bonita Lake? Is it summertime? Or the Christmas holiday? Are there any reflective surfaces like snow or water and sand? Cement or lots of white buildings?
More Like Real Life
Here is an example of how long the wide-spectrum SPF 30 sunscreen should keep you safe:
About 1 hour at 9:00 AM in the summer in central Texas (My experience)
Maybe 15 minutes at 1:00 PM. This again is very reflective of my experience.
1 minute at 1:00 p.m. at a high altitude with reflecting snow. This also seems close to what my family has experienced on prior excursions.
Each of these is of delivering the same intensity of UV radiation to my skin despite dramatically different times of exposure.
This is why, even when using sunscreen, you often whet home with sun damage. Remember those times you didn't sunburn, but you looked older and your skin dryer, due to the early aging by the UVA rays?
What SPF Do I Need?
Which SPF rating to choose for yourself? This comes down to first knowing how long it takes for your skin to change color (either pink to red, or to show signs of a tan) when exposed to UV light without sun protection. Carefully time yourself. This is extremely important.
Once you have that timing down, multiply that number by the SPF rating to get a baseline of the amount of time the sunscreen you have will protect your skin, under normal conditions.
By "normal conditions" we are talking about the amount and intensity of UV light that normally impacts your skin.
For a longer day in the sun when you know your skin will be getting much more UV exposure, you will need to choose a sunscreen with a higher SPF rating. You will also need to reapply often.
All UV sunscreens break down and become less effective the longer we expose them to sunlight. Reapplying at regular intervals helps to ensure your sun protection continues.
In reality, most of us apply much less sunscreen than the amount used in testing in the labs to find SPF ratings. You are probably not getting the SPF level of protection on the label.
Bottom line: when you know you'll be outdoors longer than usual or the sun in your area is more intense, reach for higher SPF ratings of at least 30+ and reapply every 2 hours.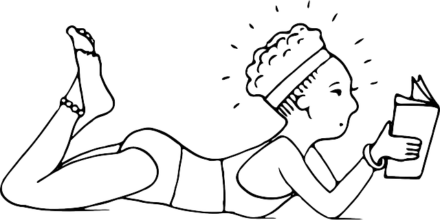 Sami's Take On Is Sun Protective Clothing A Scam?
Have you questioned the Sun Protective Clothing claims? The more I have learned, the more I think sun blocking clothing is a good value and very effective for helping me protect my skin.
There is much to learn about how clothing works to keep me safe in the sun. Just as I am learning about how sunscreen helps my clothing keep me safe, I am getting more confident that I don't need a whole wardrobe of sun blocking clothing. I am at less risk in my lifestyle now than I have been in earlier years.
However, last week my daughter picked up some items for us, we are getting a few updates going, you know, some new light fixtures, a new dishwasher, and stove. She has been helping me make decisions and find what we need.
Anyhow, she had worked in her yard in the morning before she came over, and had not been as careful as she usually is. Her sun-reddened face made me realize how quickly we can overdo the sun exposure. She has been really working to improve her skin after a misspent youth of too much sun and sneaking off to the tanning salons.
Her skin is extra sensitive now and reacts to the sun so quickly. I now understand how fast the sun can cause reactions. We can talk about sun blocking clothing day, but if you don't put that sun blocking hat on, it will not protect your skin.
Lifestyles are going to have to change as well as getting prepared with wardrobes. Even with sunscreen, a few minutes in the garden in the morning can be too much. Some of us are just more sensitive to the sun. Don't fall victim to false knowledge about how long you can be in the sun.
Some References:
Clinics in Plastic Surgery
The Journal of Clinical and Aesthetic Dermatology
Indian Journal of Dermatology
Journal of the American Academy of Dermatology