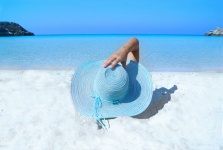 Have you thought about what color hat is best for sun protection? Do you love all the bright color tones that look so cheery? They bring a smile to my soul. So yes, I too love the colors.
However, is that color really doing the job of protecting us from the sun? Blocking out the harmful UV rays?
As it turns out, they probably aren't. They are better than nothing, but let's go over some basics of sun blocking hats to protect us from the sun.
Basically, something is better than nothing. So, the bright colors and patterns on hats are better than nothing for protecting you and your families skin.
Even if you have the best rated hat for SPF protection, if you won't wear it, that hat will do you no good. And the same for your family. So the first thing to consider is will the hat you are looking at be on anyone's head?
Awareness
In order to be able to protect your family, that hat has to be on their head.  This part of the protection will take some thought and planning for your family and their needs. 
I don't know how to decide about the hat your family members will be comfortable wearing.   Our personality and ego get in the way often when choosing sun protection clothing.  
Blocking the sun is the goal, but I will be the first to admit, no one wants to look dorky! Or whatever else describes how we feel about doing something different. 
If I am sitting in a row of Granmoms watching our grandkids play ball on a normal sunshine day, we will all need to be wearing wide brimmed hats to protect us from the sun. 
It will be easier if we are all wearing hats.  The act of wearing a sun blocking hat shows that we know about the need to protect our skin. If I,  a Granmom feel self conscious about wearing a hat for the first time, how will my grandson feel?  Not only about me being there in one, but putting one on himself?
When you are spending your money on a sun blocking wardrobe for your family, you need to feel good about your decisions. Basics Of Sun Blocking Hats
Spending Wisely
There are decisions to make as you are getting your family ready for the sunny days of playing and living.   Here are the basics of getting the most hat protection for your family.  
Darker fabrics for your sunblocking hat will protect you more.  Black, dark brown and royal blue will absorb more of the sun's harmful rays. However, they will also be hotter to wear all day. 
The deeper colors protect you by absorbing more of the suns rays and keeping them off your skin.  The darker colors will give you better protection, but again, only if they are worn.  Some families find a good compromise by finding hats that have been treated to repel the sun's rays. 
Most people like the straw- looking hats for summer, and if they are tightly woven they are a great choice.  However, they do need to be tightly woven. Tightly enough that you can't see many pinpricks of sunlight through the crown and brim. 
The fun souvenir kind of straw hat is often loosely woven, and not treated to resist the sunlight.  However, if you are caught without a hat, this kind of coverage is better than nothing. 
Awareness causes me to be quick to acknowledge that something to protect myself and my family from the sun is better than nothing. Even souvenir straw hats and baggy fitting tee shirts.
Not A Simple Solution
Finding the right hat to get your family into the hat wearing mode will be something you will need to work through. Each family unit has its own method of finding what works for them.
It is important that the younger members see the older members wearing their sun protecting gear. They will model your actions and make the hat thing settle in and be a normal everyday item they pick up on their own after a while. Of course, not immediately, but it will happen.
The sooner you as a parent present the idea of a protective covering for your head, the quicker your family will be ready for their own hats.
Finding The Right Hat
The important part is to have a hat that will be worn. The hat has to be on the head to protect it from the sun.
Any hat is better than nothing
Better sun protection is offered in deeper colors, with black, royal blue and dark brown offering more protection.
Fabric that is tightly woven, folds to fit in your tote bag and can be found when needed. The ability to be folded and carried in your bags is important.
A wide brim on the hat is important. 3 inches or wider. Too much wider and they are not as practical for most active people to wear. That is a bit floppy.
Straw, if tightly woven looks cooler, and actually is a bit cooler. Most straw will have a protective coating to keep out the sun. Make sure the sun doesn't shine through.
A hat with a wicking sweatband is more comfortable for all day wearing.
Having a way to chinch your hat down with a chin strap of some kind is important in our windy central Texas.
What Color Will Your Sun Protection Hat Be?
The idea I want to share is that we need to have something to protect our head, face, neck and ears from the sun and its damage.  I hope that you are now aware that you need this sun protection.
You must have a hat for you and for your family that will be worn.  It will not protect them if they won't wear it.
There are many colors that are fun and catch your eye.  Make sure the color you choose is one that will be worn.  Yes, you know that the darker and deeper colors are preferred to the pale and white colors.  A deep red is better than a sunny light yellow.
There are several fabrics to choose from.  Fabric must be tightly woven and prevent pinpricks of light from coming through. Blocking the sun will offer more protection.  Wool and leather, straw and canvas, as well as blends can offer the protection that you need.
For me, the budget is important, and finding the selection I did at Walmart was encouraging.  Just remember, consider what and where the hat will be worn.  
Does your little one need a hat to wear while enjoying the water?  Will your preteen spend more time under the water or on top?  There are many things to consider with the purchase of a sun protection hat.  
Just don't delay too long.  Make sure you and your family are protected from the sun with a good sun blocking hat.
Don't forget your sunglasses and sunscreen and have fun.
Protect Your Skin From The Sun
The ever-present danger of Skin Cancer is enough to make us all take better care of our skin.  It is a real danger.  Please be proactive.  why We need our sun hat