What is Rit Sun Guard? Have you heard of this product? Why should you even care about something you have not heard of?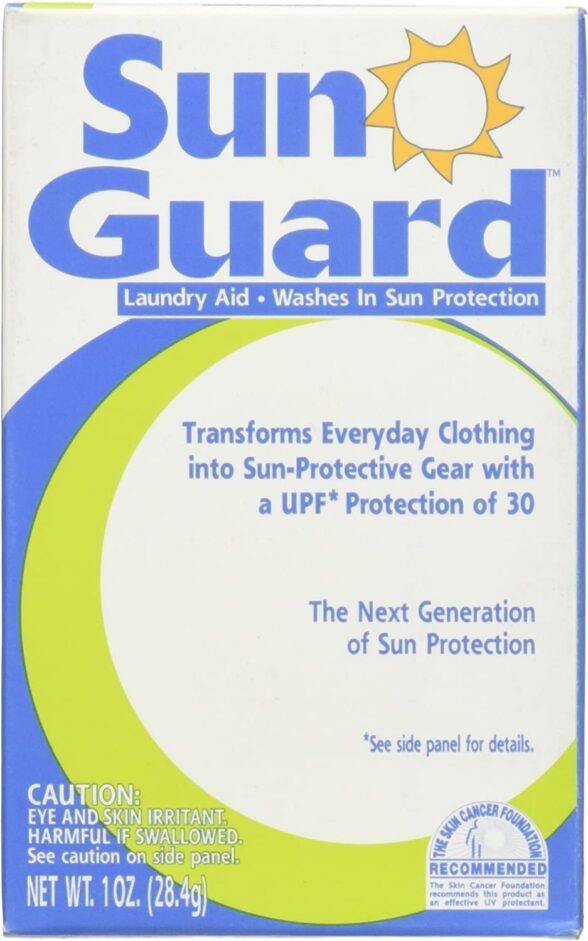 Even if you aren't the mom of a big family, having some money-saving tricks in your bag won't hurt! We all need to know how to keep our skin safe from sunburn.
I'm talking about the old favorite, Sun Guard. This is a way to get a UPF wardrobe for less money.
Sure, we all want to have some new shirts to wear each season. However, with inflation making everything more expensive, being able to upgrade some of the clothes from your closet into sun blocking garments sounds pretty good.
This product can raise the levels of sun protection of some of the items already in your closet. At a very reasonable cost. This is important when there is only one person or a whole family to keep safe from too much sun.
Can You Really Just Wash In Sun Protection?
I know, this seems impossible, doesn't it? When the prices of UPF shirts keep going up, it is difficult to believe you can protect your family with a laundry treatment product.
When trying to decide how best to get the sun protection we have been so careless about for so long, it can be pricey. I do know that we have to do better about sun protection. All our kids are grown and making their own way, there are only 2 of us to dress. However, it is still expensive.
So when I started digging into the Sun Guard products, I still was wondering about how effective it was. Does it leave clothes feeling weird? So if I had questions, I thought you might have them as well.
What Are Clothing Additives?
Sun protective clothing additives, such as Sun Guard additives can be added to your laundry. Sun Guard detergent is a UV-blocking additive that when added to your laundry can transform clothing into sun-protective wear with an SPF 30 protection.
The active ingredient is Tinosorb FD, a UV protectant that can boost the SPF of a white cotton T-shirt from SPF 5 to SPF 30 according to the University of California San Francisco
In the report of the study, the UC-based study shows that using a UV-protective added to the laundry cycle did improve the natural protective properties of the garment. This protection resulted in making everyday garments have much higher protection from the sun.
The study uses single-dose UV-protective laundry products and the ability to improve the protective ability to keep you safer in the sun. Protect your skin from sunburn, when worn with a sun-safe lifestyle.
These additives cling to the fibers in your clothing, making the garments more sun safe for you.
How Does The Additive Work?
This study shows that the new UV-protective laundry products improve the protective properties of treated garments. By infusing themselves into the fibers, making each thread in the garment fluffer.
The result is a tighter weave, as well, because the threads that are woven together swell and are thicker. This results in more sun protection. The weave is tighter, and the additives are more reflective of the sun. So there are now 2 sun protesters in place.
This offers protection for your skin, to keep you safe from dangerous UV rays. This ingle-dose product is able to boost the UV protection of fabric in a single washing cycle.
By continuing to use fabric conditioners when you launder your Sun Guard items, you will be building a higher and stronger shield against the sun, protecting you from sunburn.
How Long Will The Additive Last In My Clothing?
According to the information from the report, these treatments should last at least through 20 launderings. You are safe all summer, even with lots of washing and wearing. And if you are wearing and washing several times a week, retreat the garments and know you are safe from the sun.
The Tinosorb FD, a UV protectant is one of the active ingredients in Sun Guard to reflect the sun. This product is made by Ciba Specialty Chemicals.
(For more information, contact Ciba Specialty Chemicals, High Point, NC, Tel: (336) 801-2237; Fax: (336) 801-2057 or Ciba Specialty Chemicals, Basel, Switzerland, Website: www.cibasc.com.)
How Do I Use Sun Guard?
The next thing I wondered was how much trouble is this product to use. I am kind of old school in that I used lots of Rit Dye through the years when my family was young, and our throw rugs were made of all cotton.
Like most young moms, it was easy to just throw them in the washer, with a package of Rit Dye, and have new rugs again. We also redyed denim, faded denim was not stylish! Along the way, there were several opportunities to use this product.
So, I already understood the necessity of following directions. I knew what to expect with dye. However, Sun Guard is colorless. How will I know it is working? As I can't see the clear product, I am going to trust the claims of this product to do what it is supposed to. For me, Rit products have a good history.
I have noticed occasional complaints about this product irritating their skin. As with any product used to clean clothing or treat it, if you have a history of allergies to this kind of thing, I would not treat the whole closet of clothes until tested.
We haven't had any problems, but don't usually have issues with laundry products.
Yes, this is an additive. You will need to use the detergent you normally use in addition to Sun Guard. Sun Guard is a treatment, not a detergent.
Use as warm of water as you can on the clothes. It is important to dissolve the product so it can soak into the fibers of your clothing. If you are concerned about heat, dissolve the powder in a quart or two of really hot water, then add this to your washer.
This is also how to use the product in front-loading washing machines.
So all this part seems reasonable to me for a more affordable way of getting clothing to help me protect my skin, and stay safer from more skin cancer.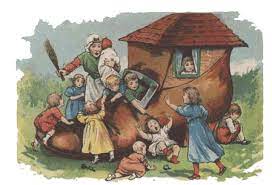 Do You Feel Like This Mom On Laundry Day?
Does it seem like you are trying to take care of this many kids when it comes to staying caught up with the laundry? If you are a parent with several kids, or just one or two, Sun Guard can be your secret weapon in trying to protect your skin from the sun.
By being able to treat the clothes they already have you can save so much money. Those tee shirts that were worn during the school year, can be worn through the summer to protect their skin from sunburn. Being able to treat clothing you bought at Goodwill, or at a garage sale is so much more economical.
When the kids are getting ready for camp in the summer and you know they will be out in the sun a lot, being able to treat their shirts and send them with what they need to stay protected from the sun.
Vacation time and getting everyone outfitted for sun protection. There are so many times this product will keep your family safe. When you are lucky enough to get hand-me-down from older cousins or friends. Are you beginning to see how much this product can help you and your budget?
Where Can You Find Sun Guard?
In my little town, I have not found Sun Guard in the stores. But, guess what, Walmart and Amazon both have it listed. I am sure there are other places as well, this is just where I found it.
Since the pandemic, I have learned to order online confidently. I noticed about a week ago, it was selling for about $6 a single-use pack when purchased in a 6-pack box. So getting your family's shirts all treated and ready for the sunny season is not so bad.
When working on keeping my family safe from the sun, I am also preparing for skin safety through the fall and winter as well. Have you planned your sun protection for the cooler months?
Skin Cancer.org Recommends At Least A UPF Of 30.
The Rit Sun Guard sun protection meets the guideline recommended by Skin Cancer. Org.
I am not an affiliate for this product. It just offers the least expensive way to get some sun protection. That is important to me. I hope that you will look at your family and its needs, and if this product will make it easier to have sun blocking clothing for your family, make things as easy on yourself as possible.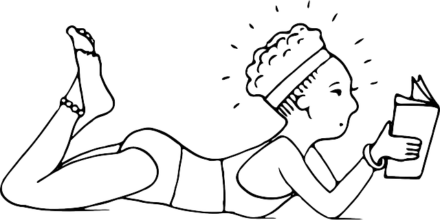 Sami's Take On What Is Rit Sun Guard
I just wanted to share a product that has been working for us this summer.
I will admit, we haven't been out so much with our hot dry summer. However, we both have many years of residual damage. We don't need any more accidental sunburns, not even one! We already spend too much time at the dermatologist's office.
Before we could plead ignorance. Now we can't. Do you find yourself being lax and not realizing the danger to your skin? Daily living in this sunny world we live in is enough of a challenge in keeping our skin sun safe. We need to pay attention, make a few changes, and be safer.
Even now we are moving through the fall, and before we are ready it will be winter. With the hours of sun our world holds, we need to have access to products to help our skin be more protected.
There are other products that are supposed to do what Sun Guard does. I don't know about them. We haven't used them. I am sure there are more good products out there. Keep yourself aware and know what is happening in the sun protection world. Keep your skin safe.
Do you use other products than Sun Guard? Can you share your experience with these other products?
Thanks,
Sami