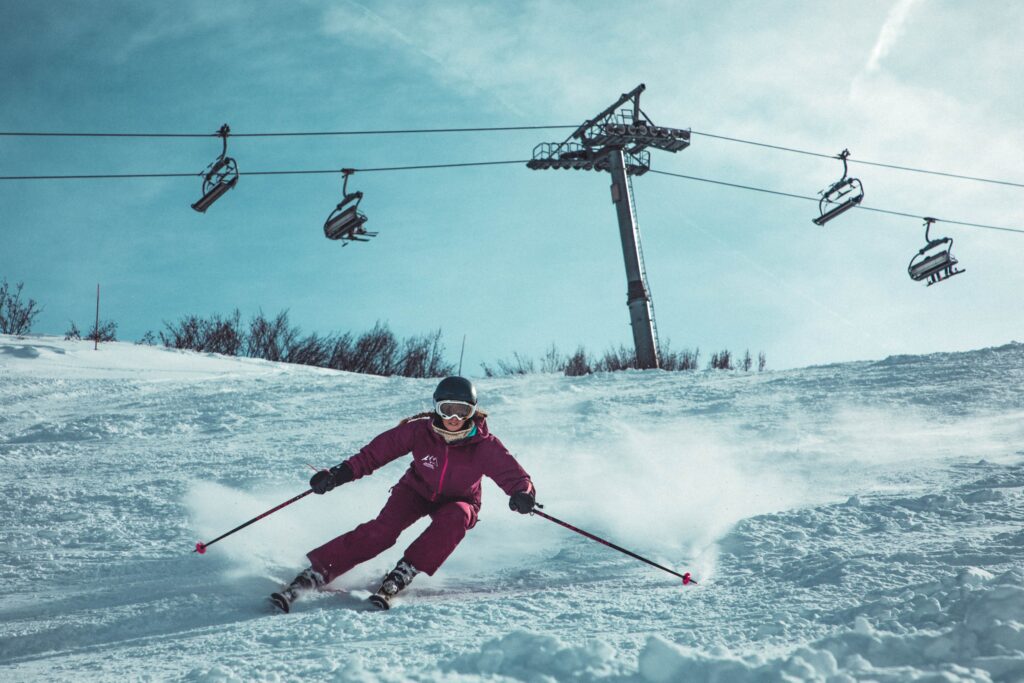 5 "Tips" To Prevent Sunburn While Snow Skiing reminds you what you can do to protect yourself from the sun.
When to ski, to avoid the risker time of day
Cover up
Wear sunscreen
Wear sunglasses
Take brakes
Carry a chap stick.
Tip 1- How To Avoid Sunburn While Skiing
Being aware of why you get a sunburn while you are out having fun skiing will make it easier to know what to do to protect yourself.
There is a different sun in the winter and understanding how it hits your skin is important.

When you are skiing you get hit from two angles.
First from the sky.
Second from the ground.
As the rays rebound off all that bright white snow.
When you are having fun in the sun, skiers and snowboarders increase their risk of getting sunburned. Your UV exposure increases at higher altitudes.
Our atmosphere helps scatter some of the UV radiation making all exposed skin more apt to get too much sun.
To prevent too much sun you will need to pay attention to where and how the sun hits your body. If any part of you is exposed, you risk too much sun in that spot or place.
Planning when to ski is the next big thing you can do. It will be easier to avoid the extra hot times and plan to ski around those times.
Plan to take a break, just as you need to in the summer. The times when the sun is the highest are most dangerous. If you aren't taking a break, being extra cautious with sunscreen and covering up will help protect your skin.
Just beware of how you can protect yourself.
Tip 2. Cover Up
When you are skiing or snowboarding, make sure to cover as much of your skin as possible.
Investing in good-quality gear is important because doing so will keep you protected. That protection is important, from the cold temperatures as well as the harmful sun.
As you go higher on the mountains to ski, the risk of sunburn increases. This makes it's extra important to protect against harm from the sun when skiing or snowboarding.
Make sure to wear a mask. At the least, goggles or sunglasses that wrap around and protect your eyes and skin. By blocking the sun from your skin you are preventing sunburn as well as early aging from the sun.
To help in preventing sun exposure from causing harm to your face and eyes consider a mask.
Many high-quality masks offer up to 99 percent protection from UV rays.
Wearing a mask or sunglasses limits the glare that can harm your eyes. This glare can also put you in danger of not being able to see the terrain clearly.
When you have good ski gear, keeping your skin sun-safe is easier to do.
Tip 3. Allow Your Ski Gear To Work For You
You already know about having fun in the sun during the warmer months.
About the fact that it is crucial to protect your skin from the sun's harsh UV rays. But did you know the sun's rays don't take a break just because there's snow on the ground?
In fact, it's often easier to get a sunburn in the winter than in the summer. All that snow will guarantee some reflections. So you will be getting sun from above, as well as from reflections off the ground.
Getting a sunburn in the winter months is painful. This wintertime sunburn is also preventable. Using your awareness as well as caution to protect yourself is important.
Make sure to have the back of your neck covered. Yes, you can apply sunscreen and you should put sunscreen on all exposed skin. As many people don't want to apply sunscreen because it will rub off on their ski gear.
The sun blocking clothing manufacturers have many amazing accessories to help you. Protecting your face, arms, and hands, from the sun has never been easier or more complete.
Keeping sunscreen off your more expensive ski wear is something you can do.
So when your time for having fun in the sun comes for skiing, be prepared. When you're hitting the slopes to ski or snowboard, make sure that you are protecting your skin.
Plan your times to be in the sun.
Cover up.
Tip 4. Wear Sunscreen
Sunscreen is a must-have during any season of the year.
We often forget to apply it unless it's summertime.
A broad-spectrum sunscreen is important when engaging in snow sports because the snow reflects. This makes it have much stronger effects when you are exposed to those dangerous UVA rays.
By applying and then remembering to reapply sunscreen every two hours, you're taking important steps to stay safe in the sun. Remember to wear your sun blocking masks, and gloves. These are important for protecting your skin as well.
Too many of us forget to wear a lip protectant with an SPF of at least 30 or higher. Because our lips can chap easily they need help with helping and staying healthy. Your lips are very sensitive to getting sun damage.
Skin cancer is often found on a person's lips. It is hard to remember how suspectable they are.
Like water in the summer, wind and snow in the winter can decrease the efficnancy of sunblock, so you need to be as vigilant as possible.
Tip 5. Remember Your Sunglasses
Sunglasses are an important part of your ski gear. It is true that sunglasses need to fit well, have oversized lenses, or wrap-around styling. The more you can cover the eyes sensitive skin around the eyes. the better your skin will be.
A safety strap to keep up with your sunglasses is important with the activity and considering the other items you need when skiing.
This is something I am having to learn to use. I have always just stuck them into a zipper pocket. To keep their well-fitting form, I have been assured that the results will be better with a safety strap for my sunglasses.
As I am learning to take care of my sunglasses, I will feel better about spending a bit more on a good pair of sunglasses.
Trying to learn some of life's habits at this late time in my life makes me appreciate how hard it is to change our careless habits.
Taking better care of your skin is so important for so many reasons. The more you know about how to protect your skin from the damage the sun can do while you are still young, the healthier your skin can be through life.
So, watch for the hotter time of day, and either get in out of the sun or take extra precautions.
Cover up so the sun can't reach your skin.
Remember to apply sunscreen
Make sure your sunglasses are worn, and handy, not left behind.
Keep Your Lips Protected
This is a simple thing to remember, and I am not doing well with this at all. Wearing a protective balm on your lips is such a simple thing to do. Almost too simple as you just don't do it.
I suppose that this is one that seems too easy. Having a tube of some sort of lip balm in your pocket is a lifesaver. Lips are one area of our skin that is visible.
We can see that our lips need to be protected, the skin is so thin. As a mature female who loves makeup, the years of ignoring my lips are a problem.
Help your family members learn some better habits, and reap the benefits of having healthy skin on your lips, not the scaley skin that makes you look older than you are.
Helping the younger members of your family learn to take care of their lips when out in the sun, winter or summer will be anther one of those tasks like wearing sunglasses and keeping them safe. They just need to have a chance to learn.
Don't let the sun cause your wintertime fun to leave your skin sunburned and more prone to skin cancer. You will be healthier and so will your family with just a few protective habits..
Taking Breaks Is Important
You know that taking breaks from the sun when you're at the beach is important.
It is easy to be out in cooler weather, and before your know it, you are exhausted. Winter sports like skiing or snowboarding take lots of energy. Being in the sun while you are active and busy, you can be exposing your skin and not realize it.
Make sure to give yourself a break from the sun every few hours. These breaks will give your skin and eyes a break from the sun give you time stay hydrated.
It's easier to get a sunburn when you have prolonged exposure to the sun. Drinking plenty of water can prevent your skin from being too susceptible to those rays. Allow yourself to stay healthy. Take some breaks and get out of the sun.
How Can I Protect My Skin While Skiing?
Prevent your skin from becoming damaged and avoid sunburn.
Cover exposed skin on the slopes with gloves, a scarf, a face-mask, and a hat. For the areas you can't cover up, sunscreen will be needed.
Should you wear sunscreen when skiing? While this should be apparent, too many of us don't wear sunscreen. Research tells us that less than 40% of us cover up.
Knowing this, we are making ourselves eary skin cancer victims. Will you continue to allow this to happen to you and your family?
Yes, research supports covering up with sunscreen and sun blocking clothing to prevent yourselves from having skin damage. Often sun blocking clothing can be the "extra thing" you can do to give you much better protection.
While the cold winter months may not immediately bring to mind warmth and sunshine, ultraviolet (UV) rays still pose a risk and you need protect your skin before heading outdoors, just like in the summer. Sun blocking clothing can help.
There are more than 5 million cases of skin cancer diagnosed in the United States each year, making it the most common cancer in the United States, according to the Centers for Disease Control and Prevention.
Most cases of melanoma, the deadliest kind of skin cancer, are caused by exposure to ultraviolet light (like the sun) which means you as a skier are very vernable to sun damage t your skin.
If your are active year-round with an outdoor lifestyle? You have a much higher risk of developing skin cancer than someone in the general population.
Why Do You Get Tanned While Skiing
Skiers spend all day outside at high-altitudes where the UV rays are much stronger. With the thinner atmosphere there is less protective.
Then add to this. The sunlight bounces off snow and cloud which increases the power of the sun's radiation. This makes sunburn more likely which is why it's so important to protect and cover your skin. A combination of sunscreen and UPF clothing will help.
Finding your right combination of clothing and sunscreen may take a day or so. Don't forget that you are doing a life time of damage here. If you get a bad sunburn, you will not enjoy the days of your vacation time getting well instead of skiing.
Talk to other skiers, and learn what they have learned about taking care of themselves and their skin. Be willing to learn more ways to stay safe while you are having fun in the sun.
At What Temperature Can You Get A Sunburn?
Did you know that it is possible to get a sunburn on a sunny day with a temperature of 40 F just as you can on a sunny day with a temperature of 80.
The cool is surprising. The out side temperatures do not have to be in the 90's for you to get a sunburn.
Remember to consider the wind as well. If the wind is drying your skin as well as the sun beating down on you, you will need to help your skin protect itself.
One More Thing
The sun's rays on the mountain are extremely intense.
When you are skiing, the so-called "sun terraces" on your body are particularly at risk:
On the bridge of your nose, eye areas, cheeks, ears, lips as well as the scalp, hairline and crown of the head need special protection when skiing.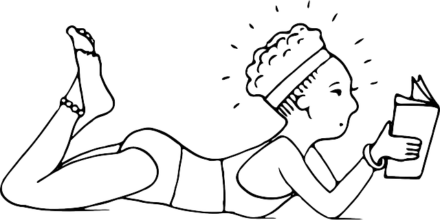 Sami's Take On 5 "Tips" To Prevent Sunburn While Snow Skiing
Skiing and snowboarding are fun winter activities, they often take a toll on our skin health. Becauseit is cold, we forget that the sun is still active. That damage to your skin can happen.
While we are busy having fun it is too easy to forget to protect our skin. We also forget taking breaks, after all the days are short, and we want just one more run.
While the winter sun and the cold can make protecting your skin seem a bit much, it is important. Taking care of your skin is something you can and should do.
Soon it will become a habit, and not a chore. However, as you are learning to work with sun blocking clothing, and sunscreen to make things better for your skin, it can be frustrating.
Coming home with sunburn, and tender skin on your face, ears and neck because you were not as careful as you thought will be frustrating.
Just think through how to protect your skin. Incoperate some of the sun blocking clothing to eliminate so much sunscreen reapplication. Finding the right mix for you may take a trip or two.
I feel that even if I do not get 100% protection, getting some is worth the effort. If I can add one good habit this trip, maybe I can add another next time.
Changing your lifestyle from being careless and reactive, to becoming proactive, careful and proactive will make a difference. This kind of change will help me take better care of my skin.
Will this mean that we won't have anymore sunburn? I sure hope so, but I know that I will be more aware and not allow it to be taking place all day!
This journey of learning how to care for my skin, even with all the damage I have had is important. It is not all just to look better. My skin is important for other parts of my health.
Skin Cancer isn't the only thing to try to avoid. There are the immune systems part of our overall health. Research is letting us know that repeating sunburn on your skin can weaken your ability to fight infections.
Protecting this skin we live in is a challenge, unless be become more aware.
Will you become more careful with your skin? Help your family member lean how to stay safer in the sun?